In each day that passes by, we stand by and witness how our lives are being lived without the full happiness and satisfaction we crave and need. Most people spend their time stressed out, worried and on a constant panic about what needs to be done for their futures, raising their children, wired up over work, school, along with everything else. Does this sound familiar? Well if it does, it is because so many people live with this style and pattern. When you can start living that fully happy and satisfied life?
Hope it's ok to post this soon, starting to freak out about the exhibition!

24th September - October 3rd
Melbourne Fringe Festival
161 Albion St, Brunswick, 3056
Preview screening and launch party 24th September, 6pm-9pm. Includes Pop up gig and homebrew!
Exhibition dates 25th September-October 3rd, 12pm-5pm
Have you ever wondered what goes on in other people's homes? This exhibition explores the role of Womens' craft as part of and related to the home. It is held at the home of curator and crafter, Cate Lawrence. As a creative practice, craft is obscured by its residential location as it is traditionally not done in art spaces, studios or collectives. It is not held in a high regard as other creative mediums such as graphic design, painting and sculpture. Yet this exhibition puts craft in the spotlight and shows the high degree of crafters creating in their homes.
The works span embroidery, sewing, Gocco, quilting, jewelery making, ceramics and textiles arts as traditional craft techniques are reinterpreted for a contemporary audience. Wander through Cate's home and see the inspiring work of many wonderfully creative women.
The Sunday openings include a pop up backyard craft market.
Exhibitors include: Cate Lawrence, Katherine Hepworth, Rayna Fahey, Mae Finlayson, Louise Francis, Tanya van der Weert, Katherine Barling, Anna Boyd-Dunlop
Cate Lawrence
cate@polkadotrabbit.com
(03)83000233
0433255721
For more info go to http://www.polkadotrabbit.com or facebook event Home Is Where the Craft Is
Myself and a small group of spiffy, sassy people are having a group exhibition. There will be naughty bits, sexy bits and creepy bits! Come one, come all!


Just letting anyone who cares know that my website, jngaio.com has been updated with art from an exhibition I recently had about mermaids at Brunswick St Gallery. http://www.jngaio.com/gallery/cold-salt-skin-2009/ Check it out and comments always very much welcome!
So now I'm at a loss as to how to hang them. They're big-ish and heavy-ish. Any suggestions? Pretty please?
So I made some flat, cutout artworks out of MDF. They cannot have hooks nailed or screwed to them and attaching them to walls with double sided stuff is awkward and problematic.
SUNDAY 18 OCTOBER 2pm, themed "Under the Sea"
starring Dr Sketchy's Melbourne favourite,
ROLLERGIRL (aka Hayley Gray) as our sparkle covered mermaid,
and for the first time here in Melbourne, VESPER WHITE as the Octogirl!!
Hosting this session dedicated to babes of the Sea is the Queen of Vaudevillian excess,
front lady of The Level Spirits and expert clam diver, Miss Molly Jean Morrison!
BYO Fishing line and sketchpads!
SUNDAY 18 OCTOBER 2pm
Doors open 1.30
The Order of Melbourne
Lvl 2/401 Swanston St Melbourne
look for the Red Door!
$15 no booking fee
BOOKINGS : 9663 6707
3rd Sunday of every month!
Latest News:
Dr Sketchy's Melbourne has just turned 3 and continues to flourish.
Due to this demand we have made some very exciting changes.
We are very proud to announce our new venue will be The Order of Melbourne!
Seating - This new venue means comfy, spacious seating! Either at the bar on stools, or at your own table or couch
Visibility – A 4 foot stage ensures your models will be entirely visible – from feathered hairpiece to peep-toe heels!
Location - Car parking surrounding the area, tram stops at the front door and Melbourne Central train station less than a block away, no excuse to not be there!
Another much requested change is the time!
We will continue to run monthly, on the 3rd Sunday of each month from 2pm for 3 hours.
Dr.Sketchy's is for everyone, no previous artistic ability required as long as you're prepared to have a good time. We're all about bringing the creativity out in you and having a good time. Have a drink, bring a sketchpad, a pencil and your enthusiasm.
Join us on the 3rd Sunday of each month for ridiculous sketching pleasure, where you'll also be treated to a performance by our models.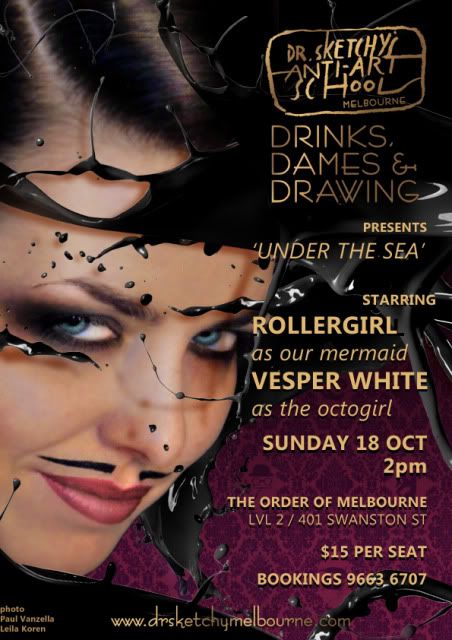 Dr Sketchy's Melbourne relaunched just weeks ago at our spacious new venue, The Order of Melbourne, and we're now fast approaching our next session!!
Hey everyone!

I just wanted to invite you to my upcoming exhibition, Cold Salt Skin... it's about mermaids! Ooer!


Cold Salt Skin
When: Opens 23 Oct at 6pm. Runs to 5 Nov 2009. Wed-Sun 11-6PM.
Where: Brunswick St Gallery, 322 Brunswick St, Fitzroy. Upstairs in gallery 2.

I'd also love for you to check out my art on my website
jngaio.com
- comments and questions always more than welcome!
The VCA is at threat of losing much of what is integral to it. This has a ripple on effect in countless ways. If you're free tomorrow I ask for you to join me in protest at 10am at the VCA, St Kilda Road.